Carceral Studies Consortium – Friday Newsletter (6/26/20)
Carceral Studies Consortium – Friday Newsletter (6/26/20)
Welcome to the OU Carceral Studies Consortium (CSC) Newsletter. This is a space where we'll gather for community, learning, and inspiration. The Carceral Studies Consortium strives to build a community for intellectual exploration that includes faculty, staff, graduate students, community members, practitioners, and organizers. The Consortium Newsletter offers regular programming as a way for us to gather and learn, including a bi-weekly newsletter, a podcast, and reading groups.  
The Consortium Newsletter will offer a roundup of a few selected articles that reflect today's news, organizing, and thinking on all things related to the carceral state. This newsletter will drop every other Friday. We understand that freedom work is built on education and engagement. Education requires an understanding of contemporary issues informed by their historical context. We hope that these curated articles will help you analyze the issues that we face and understand the community that we strive to construct.  
We encourage feedback, suggestions, and article suggestions. Please reach out to alex.finkelstein@ou.edu with any ideas, thoughts, or recommendations.
Featured News: Week of June 26, 2020
Garrett Felber, "The Struggle to Abolish the Police Is Not New," Boston Review 6/9/2020
Felber argues that prison and police abolition is not a radical new concept, but rather was woven into the civil rights movements and freedom struggles of the twentieth century. These historical movements undercut the argument that abolition is radical, naïve, or idealistic by showing that this organizing lineage long has "called for an entirely different social and economic order in which prisons and police would not exist."
Featured image: Intake mugshot of Bayard Rustin at Lewisburg Penitentiary, 1945
Robin D.G. Kelley, "What Kind of Society Values Property Over Black Lives?" The New York Times 6/18/2020
Kelley argues that the media's "obsession over looting" during protests shifts the focus of the protest over police killing Black people with impunity to crime. This article explains the historical context of looting of Native land and Black labor on which the U.S. was built. Racism, Kelley concludes, contributes to the economic devastation of Black and Brown people and allows many to value property over people.
University of Oklahoma faculty, staff and students have full access to the New York Times. Learn more
Featured image: In South Central Los Angeles in the wake of the Rodney King verdicts in 1992. Credit: Paul Sakuma/Associated Press
Vox Media feat. Karlos Hill, "Why All Americans should honor Juneteenth," Vox 6/19/2020
Hill explains the history of Juneteenth, what it represented for enslaved people, and why this holiday inspires while forcing us to reckon with the ways the legacy of slavery shapes the U.S. Since the end of slavery Black people have accrued education and wealth, "but there's been one constant, and that constant is the presence of random racist violence." Hill places Juneteenth in the context of Emancipation Day celebrations, and argues that these "enslaved people, celebrating in public, their newfound freedom, was an act of resistance."
Stephanie McCurry, "The Confederacy Was an Antidemocratic, Centralized State," The Atlantic 6/21/2020
McCurry argues that the Confederacy was a "big, centralized state, devoted to securing a society in which enslavement to white people was the permanent and inherited condition of all people of African descent." This article deconstructs the myth and propaganda of the Confederacy in order to illustrate the reality that Confederate statues honor a white-supremacist government that fought against the United States.
Featured image: Getty/The Atlantic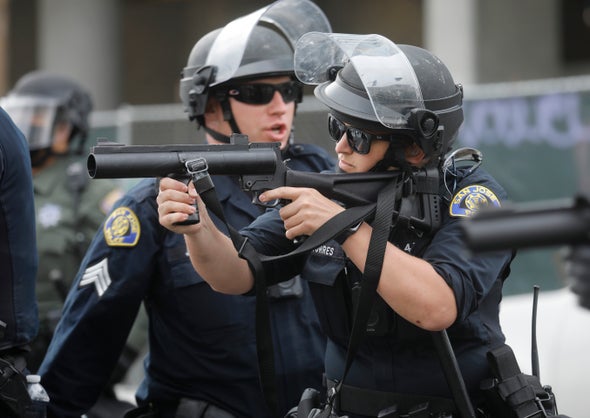 Kelsey Atherton, "What 'Less Lethal' Weapons Actually Do," Scientific American 6/23/2020
Atherton argues that weapons that seem innocuous and are "sold as an alternative to the kind of force that immediately kills" (e.g., rubber bullets, tear gas, flash bangs, pepper spray) employ force and chemistry to ensure compliance. These tools, which are "often used as a prelude to more severe measures" cause injury and death.
Featured image: Police officer prepares to fire a rubber bullet at a protester during a protest for the killing of George Floyd in downtown San Jose, Calif., on May 31, 2020. Credit: Nhat V. Meyer Getty Images
Steve Murray, "Statement of Recommitment," Alabama Department of Archives and History 6/23/2020
Murray, Director of Alabama Department of Archives and History, offered a statement that acknowledged the archive's political and cultural role in curating a racialized version of the state's history and was founded "to serve a white southern concern for the preservation of Confederate history and the promotion of Lost Cause ideals." The statement commits the archives to pursuing the documentation of a more inclusive history of the state.
Tina Jenkins-Bell, "Black Panthers See Echoes in Today's Protest Movement, With Focus on Cell Phones, Not Guns," San Francisco Free Press 6/23/2020
Interviews with members of the Black Panther Party for Self-Defense (founded 1966) reveal the parallels between today's protest and the freedom fights of the 1960s. Former members of the Black Panther Party argue that "the Black Lives Matter protests against police brutality serves as an extension not just of their own struggle in the 1960s and '70s, but also of struggles stretching much farther back." Instead of using guns, today's freedom fighters are using cell phone videos and publicity to generate outrage and solidarity.
Featured image: Former Black Panther Henry "Hank" Jones says Black Lives Matter protesters have avoided some of the mistakes made by the Panthers. Courtesy Henry Jones
Lydia Pelot-Hobbs, "Accept Nothing Less Than Police Abolition," Boston Review 6/24/2020
Pelot-Hobbs argues that "we must recognize how policing—no matter how refined with regulations, or data, or 'best practices'—is a racial state project premised on the criminality, and thus disposability, of black life." The article concludes that abolition is a twin project that both defunds carceral infrastructure and invests in education, housing, jobs, and other social institutions.
Featured image: tonbabyd
Published on June 26, 2020