RENEGADES AT BIZZELL
Bruce Goff and the American School of Architecture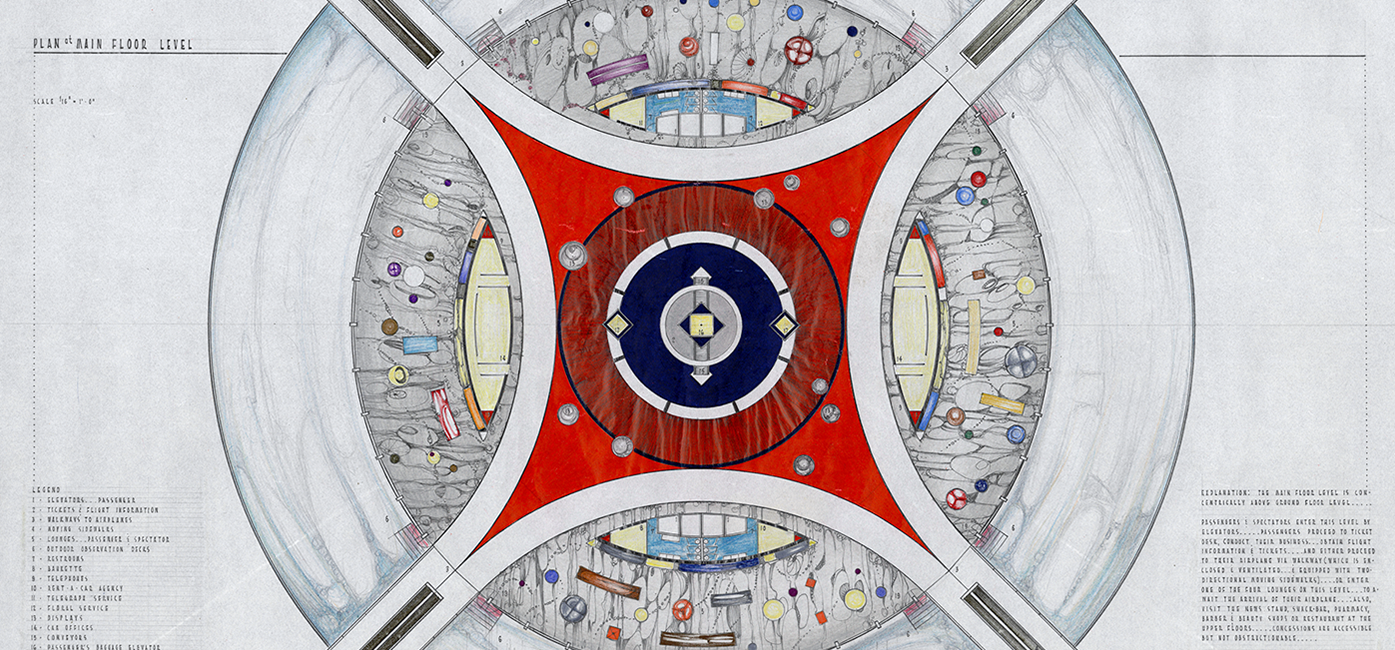 Exhibition
Main Floor
Sept. 22, 2018 – Jul. 29, 2019
Renegades in the News
International
Local
Under the leadership of Bruce Goff (1904-82), Herb Greene (b. 1929), Mendel Glickman (1895-1967), and many others, OU faculty developed a curriculum that emphasized individual creativity, organic forms, and experimentation. This radical approach to design drew students to Oklahoma from as far away as Japan and South America and later spread the American School influence to their practices in California, Hawaii, Japan, and beyond.
The American School is now captured in a new archive housed within the University Libraries' Western History Collections. Renegades at Bizzell exhibits works from this new archive for the first time ever, in three sections: "The OU College of Architecture," "The American School in Practice," and "Architectural Archives."
The OU College of Architecture
Although a few architecture courses existed in the Engineering College as early as 1922, the School of Architecture was not formally established as a part of the College of Engineering until 1926. The school's first two directors, Joseph Smay (director 1926-1936) and Henry Kamphoeffner (director 1936 -1946) followed the classical approach to architecture. In 1947, Bruce Goff was appointed chairman of the School of Architecture. He shifted the school's design philosophy abruptly from the Beaux Arts model to a focus on developing imagination and creativity within a professional curriculum.
The American School in Practice
The American School of Architecture developed at the University of Oklahoma under Bruce Goff, Herb Greene and their colleagues in the 1950s and '60s. This new approach to teaching design centered on the goal of helping students realize their creative potential as individuals. They were encouraged to develop original responses to site, function and client rather than imitate historical forms or copy abstract art.
Architectural Archives
Both buildings and architectural archives are made of material, some structural, some decorative. Building materials are chosen for their strength, durability, tensile and surface qualities. The stuff of which archives are made have their own physical properties, well suited to their immediate function but liable to deterioration and damage over time.
Tour Renegades at Bizzell Online
Explore beautiful scans of American School drawings, publications like Friends of Kebyar, 3D animations by Skyline Ink, and archival documents from the Goff era.
Virtual Reality Tours
Produced by Skyline Ink of Oklahoma City in stunning detail, these virtual reality tours give you an up-close look at two well-known Bruce Goff's projects.
Installation Images
15 images
We're grateful to the many Renegades who donated their work and shared their stories with us.
This would not have been possible without the hard work and dedication of an incredible team.
The Exhibition Curation and Research efforts were led by Luca Guido with: Erik Baker, Bridget Burke, Hans Butzer, Sam Callahan, Anthony Cricchio, Angela Person, Stephanie Pilat, Elizabeth Pober, Carl Siegel, and Matt Stock. Students enrolled in an American School exhibition design course co-taught by Hans Butzer, Luca Guido, and Michael Hoffner provided essential design and research support.
Support from the OU Libraries staff was critical to the creation of the American School Archive. Special thanks to Bridget Burke, Carl Grant, Kristina Grimsley, Barb Laufersweiller, Rick Luce, and Rick Schultz. The project would not have been possible without the tireless support from GCA staff and faculty, especially Camille Germany, Leehu Loon, Ginger Murray, Jerry Puckett, and Garrett Stowe. Countless more students, faculty, staff and volunteers have donated their time to these efforts since 2016.
Featured image: Gene Williams, American School Archive, OU Libraries.