Renowned Urbanist Richard Florida Visits Urban Design Studio
Renowned Urbanist Richard Florida Visits Urban Design Studio
Renowned urbanist, demographer, and author, Richard Florida (left in image) visited the OU Urban Design Studio on January 28, 2020. Professor Florida discussed his latest book, The New Urban Crisis, and took questions from urban design students about the future of small and mid-size cities like Tulsa.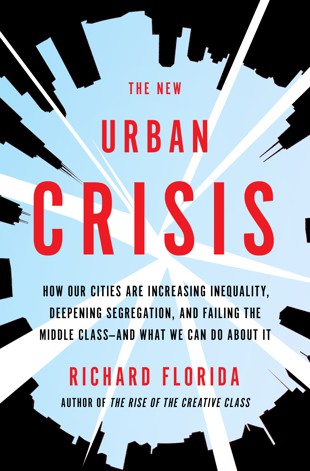 The New Urban Crisis by Richard Florida
In an article in City Lab, Richard Florida recently this recent work and how he defines the New Urban Crisis. Read on for an excerpt; the full article can be found here.
What exactly is the New Urban Crisis?
"For the past five years or so, I have focused my research and my intellectual energy on defining it. Working with my research team, I developed new data on the scope and sources of urban inequality, the extent of economic segregation, the key causes and dimensions of gentrification, the cities and neighborhoods where the global super-rich are settling, the challenges posed by the concentration of high-tech startups in the cities, and the alleged dampening of artistic and musical creativity as cities have grown more expensive.
"Marrying my own long-held interest in urban economic development with the insights of urban sociologists on the corrosive effects of concentrated poverty, I mapped the deep new divides that isolate the classes in separate neighborhoods and traced the growth of poverty and economic disadvantage in the suburbs. I delved deep into the many challenges that face the rapidly growing cities of the world's emerging economies, where urbanization is failing to spur the same kind of economic growth and rising living standards that it did for the advanced nations.
"The New Urban Crisis is different from the older urban crisis of the 1960s and 1970s. That previous crisis was defined by the economic abandonment of cities and their loss of economic function. Shaped by deindustrialization and white flight, its hallmark was a hollowing out of the city center, a phenomenon that urban theorists and policymakers labeled the hole-in-the-donut. As cities lost their core industries, they became sites of growing and persistent poverty: their housing decayed; crime and violence increased; and social problems, including drug abuse, teen pregnancy, and infant mortality, escalated. As urban economies eroded and tax revenues declined, cities became increasingly dependent on the federal government for financial support. Many of these problems remain with us to this day."
The full article, "Confronting the New Urban Crisis," can be found here.
Published on February 03, 2020